Seymour to celebrate National Pollinator Week June 21-27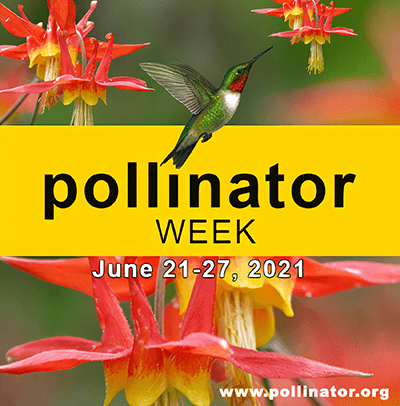 With their orange wings laced with black lines and bordered with white dots, Monarch butterflies are one of the most iconic and beloved of its species.
The Seymour Department of Public Works Recycling Division is celebrating the beauty and importance of Monarch butterflies and other pollinators with several planned activities.
National Pollinator Week runs from June 21-27 and is an opportunity to spread the word about the need to protect all pollinators and their habitats.
Mayor Matt Nicholson will be issuing a proclamation declaring the week National Pollinator Week in Seymour.
To kick off the week, DPW is sponsoring a community photo contest to encourage people to go out, observe and capture the wonder of pollinators through photography.
The contest is open to all ages and will be judged online with the winner being the one that receives the most likes overall on Facebook.
Photos can be submitted by posting to Seymour DPW's Facebook page with #protectpollinators or #monarchsmatter or can be emailed to RecycleInSeymour@gmail.com. Photos must be taken in Jackson County between 2020 and 2021. Entries should include the name of the photographer, location and date the photo was taken.
Photos should include any of the following, milkweed, monarch butterflies, other pollinators (bees, butterflies, birds, insects and bats) or other native Indiana pollinator-attracting plants.
The overall winner will receive a gift basket that includes items from local businesses and organizations including Schneider's Nursery, Muscatatuck Wildlife Society, Seymour Parks and Recreation, Magic of Books, Artistic Impressions, Brooklyn Pizza, Mi Casa Mexican Restaurant, Rails Craft Brew and Eatery, Paws N Klaws, The Coffee Company, 3'z Company and Beauty from Ashes Tattoo parlor.
The winning photo will be printed in The Tribune and will be framed to hang at DPW.
Deadline to submit photos is July 10.
Also, during Pollinator Week, local pollinator expert and retired Seymour educator Peggy Stark will be giving a presentation on Flying Flowers. Participants will learn how to tell if a butterfly is male or female, how to attract butterflies to their property and other interesting facts and helpful tips on protecting butterflies.
The presentation will be at 6:30 p.m. June 24 at the Seymour Community Center, 107 S. Chestnut St. and is free and open to the public.
The city is pledging to take action over the next few years to protect and save Monarch butterflies through The National Wildlife Federation's Mayor's Monarch Pledge.
The mayor, DPW and Seymour Parks and Recreation are working together to come up with ways to improve and create pollinator habitat within the city and promote conservation of Monarch butterflies.
---
Flag Day Proclamation
Mayor Matt Nicholson delivered a proclamation Monday declaring June 14, 2021, as Flag Day in Seymour. The declaration came as part of Seymour Elks Lodge 462's Flag Day ceremony conducted on the patio at Brewskies Downtown.
The annual event is an opportunity to learn more about the history of the American flag and to show honor and respect for everything for which it stands. Participating in the Elks' honor guard to present the history of the flag was Elks member and city Councilman Jerry Hackney.
"The first official flag of the United States was adopted on June 14, 1777, by an act of Congress.
On Aug. 3, 1949, Congress designated National Flag Day, which was to be celebrated on June 14th of each year.
Flag Day celebrates our nation's symbol of unity and stands for our country's devotion to freedom and to equal rights for all.
In honor of Flag Day, June 14, 2021, it is altogether fitting and proper for each of us to pledge our allegiance to our flag.
I, Matt Nicholson, mayor of the City of Seymour, Indiana, do hereby proclaim June 14, 2021, as Flag Day in the city of Seymour and urge our citizens to pause today to salute the flag of our country. As we dedicate this proclamation to the youth of our community, it is our desire to pass along to our young people the importance of showing respect and honor toward our flag and our country, the great United States of America." - Seymour Mayor Matt Nicholson.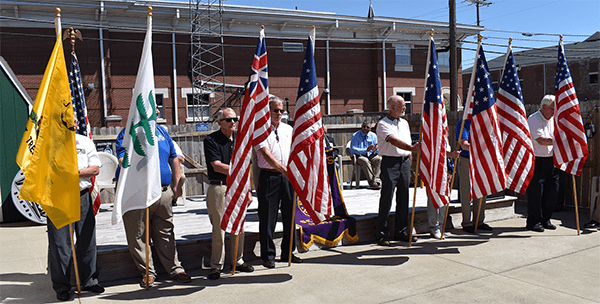 ---
Independence Day Celebration Events
Independence Day is just around the corner and Seymour Parks and Recreation department has a whole line up of activities to help you celebrate.

Start off July 4 with half-price admission at Shields Park Pool from noon to 5 p.m. Cost will be $2 for swimmers age 6 and older and $1 for age 3-5. Children under the age of 3 are free.

After cooling off in the pool, head over to Freeman Field Recreational Complex for the inaugural Smalltown Star Teen Talent Show from 3-5 p.m. Cash prizes will be awarded. The event is a Leadership Jackson County project and is being sponsored by Seymour Parks and Recreation and the Boys and Girls Club of Seymour.

Afterwards, the Fabulous Hickbillys, a local, classic and Top 40 country music group, will take the stage for a free concert, sponsored by Moore and Shepherd Insurance, from 7 p.m. until dark.

The concession stand will be open and selling snacks and drinks.

The night will end with the city's annual free fireworks display which will begin at dark (around 10 p.m.). The show will be set to music by Radio 96.3. Alcohol and personal consumer fireworks are not allowed in the park.

Rainout day for the fireworks is Monday, July 5.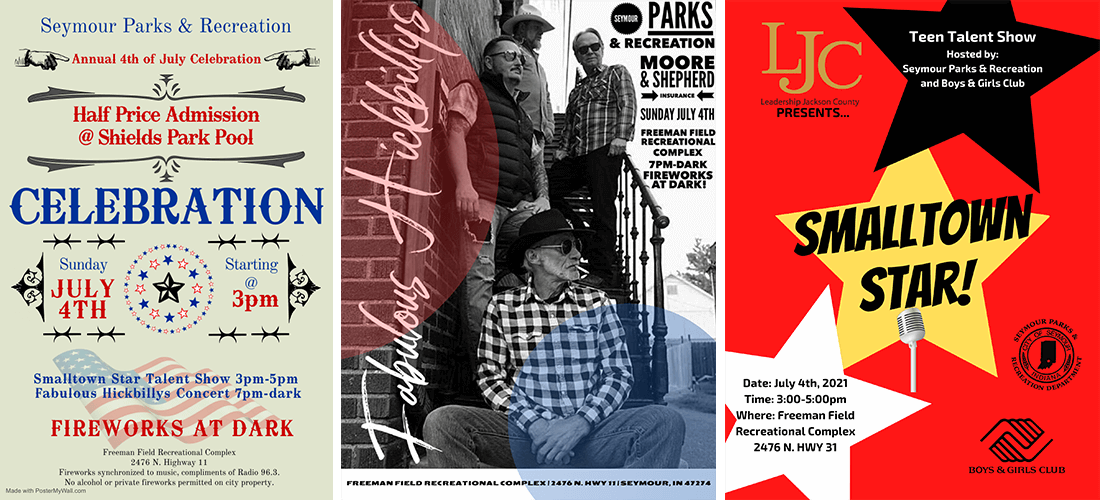 ---
Chevy and Bob Poynter GM Support Seymour Youth Sports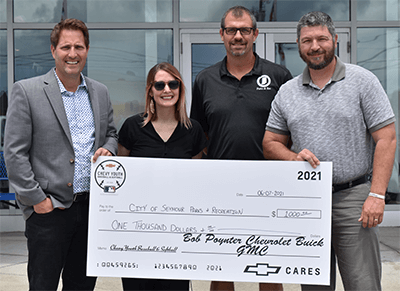 Chevy and Bob Poynter GM want to support youth sports in the community and recently made donations to Seymour Parks and Recreation.
On Monday, J.B. Hackman, president and owner of Bob Poynter GM in Seymour, presented a $1,000 check to the parks and recreation department for youth baseball and softball.
A total of $500 will be used as a field sponsorship to fund maintenance and upkeep. The other $500 will go to purchase youth league equipment.
Attending the check presentation were Hackman, Parks Director Stacy Findley, Parks Operations and Maintenance Director Chad Keithley and Mayor Matt Nicholson.
---
Seymour Community Center to reopen June 14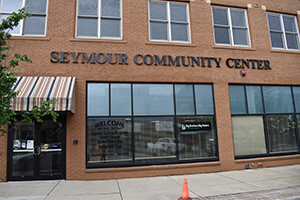 After more than a year of being closed, the Seymour Community Center, 107 S. Chestnut St. in downtown Seymour, will reopen to senior citizens beginning Monday, June 14.
Tentative hours are 9 a.m.- 1 p.m. Monday through Friday. These hours will be adjusted as needed based on demand.
On-site activities including bingo, cards and other games will be available. Field trips will resume at a later date.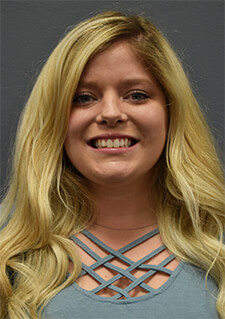 The parks board voted in April to reopen the center but the opening was delayed because the former community center director did not return to the job.
The parks board approved the creation of a new position, assistant program director, that will oversee the center and assist the parks and recreation department with programming.
Allycen Wheeler was hired for the job and began June 2.
For more information on community center programming, contact Allycen at 812-569-1359 or email awheeler@seymourin.org.
---