Aviation Department / Freeman Municipal Airport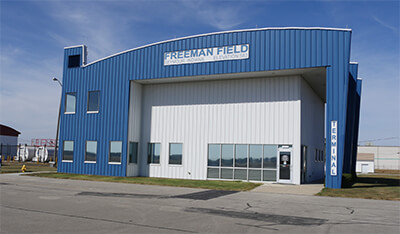 The Seymour Freeman Field Municipal Airport is owned by the city of Seymour and operated under the direction of the Airport Authority Board.
Don R. Furlow is the Airport Manager, and he has a staff of five employees who are responsible for office and maintenance work at the airport. The staff maintains the four runways and the buildings and grounds that are a part of the facility.
Airport Authority Board
The board meets once per month at 7:15 p.m. on the third Monday in the Airport Office Meeting room.
Brian Thompson - President
Brandon Sunbury - Vice President
Dr. William Blaisdell - Secretary
Scott Davis
About Freeman Field
Freeman Field was built during World War II, and became an important twin-engine training facility for pilots. Over 4,000 pilots were graduated from there during the war. It has been named to the list of Historical Sites in Indiana.
Following the war, the field was given to the city of Seymour. It then became an Industrial Park, and was developed to the point it is today, with 26 different businesses and industries located there. The airport has two Fixed Base Operators, and four T-hangars available.
The Freeman Field Flying Association, a group of citizens interested in all the aspects of flying, has over 100 members and is very active. There are two aerial survey businesses based at the field. There are 1406 acres for agriculture which are rented out to farmers. The Indiana National Guard 38th MSB has a facility at the field.
Freeman Army Airfield was named in honor or Captain Richard S. Freeman. An Indiana native son and a 1930 graduate of West Point. Captain Freeman was awarded the Distinguished Flying Cross, the Mackay Trophy (awarded by the air force for the most meritorious flight of the year), and was one of the pioneers of the Army Air Mail Service.
Freeman Army Airfield Museum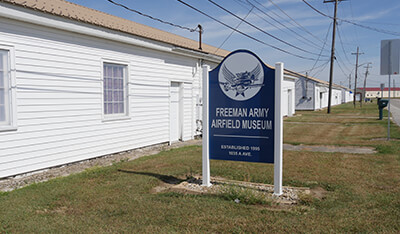 The Freeman Army Airfield Museum preserves, protects and displays artifacts from the WWII era, covering the time period 1942 through 1946. Freeman Army Airfield performed two distinct functions during those years; training bomber pilots for the US Army Air Corps in 1943 and 1944, and acting as the Foreign Aircraft Evaluation Center in 1945 and 1946.
Click here for more information on the Freeman Army Airfield Museum
Contact Information
Office Contacts
Colin Smith - Airport Manager
seyairport@live.com
Victoria Taylor - Administrative Assistant
seymourairport@hotmail.com
Office Address
1025 A Avenue – Freeman Field, Seymour, IN
Office Phone