About Seymour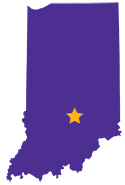 The City of Seymour is located one hour south of Indianapolis, one hour north of Louisville and one and one-half hours west of Cincinnati. Seymour, Jackson County, Indiana is the place to live your future! Seymour has a population of approximately 20,000 residents and is served by Mayor Matthew Nicholson, Clerk-Treasurer Darrin Boas and seven Councilmembers.
Seymour is a thriving industrial, commercial, and residential community based on well-planned growth and progress. The quality of life is demonstrated by Seymour's "small town" yet bustling atmosphere, beautiful parks and open spaces, attractive landscaping and arterial streets, a low crime rate, quality schools and affordable housing. Because of the geographic location, a pro-business environment, and a proactive local government — Seymour is expected to continue to grow.
City proposes annexation; public information sessions scheduled
New - Proposed Annexation - Frequently Asked Questions
It's been eight years since Seymour annexed property on the city's north side which allowed for the development of Burkart Crossing apartments and the Redbud Meadows subdivision.
Now, Mayor Matt Nicholson is looking to take his turn at growing the city's physical boundaries again.
The city is proposing the annexation of a total of 719 acres, most of which is agricultural ground located south of the city between State Road 11 (South Walnut St.) and North County Road 975 East, where the new Burkart Boulevard extension currently is being built.
The annexation area also includes properties surrounding Phase 1 of the extension from east of Silgan Plastics to east of Sycamore Road where the new road comes up near Walmart Supercenter east to County Road 975E.
A total of 210 parcels are within the proposed annexation including all of the Ashwood and Hoevener subdivisions off of County Road 950E (Meadowbrook Drive) south of The Home Depot.
Mayor Matt Nicholson said the annexation makes sense for the future of Seymour.
"If we want to grow, this is the direction it's going to happen," he said.
With the construction of the bypass, a pedestrian trail, railroad overpass and the sewer interceptor project, the city is setting up the area for future residential, commercial and industrial development.
The annexation also will provide city services to residents in the annexation area including trash and recycle collection, snow removal and street maintenance, public transit, and police and fire protection.
A fiscal impact report is being finalized and will be presented to the city council in the future for approval. Council also must approve an ordinance to annex on two separate readings.
In an effort to provide information to impacted residents and property owners, the city is conducting community outreach meetings next month at the Seymour Community Center, 107 S. Chestnut St.
Letters have been sent to all affected property owners.
There will be six public meetings:
Tuesday, July 6 – 6 p.m.
Thursday, July 8 – 8:30 a.m.
Monday, July 12 – 1 p.m.
Wednesday, July 14 – 6 p.m.
Tuesday, July 20 – 6 p.m.
Thursday, July 22 – 6 p.m.
These meetings are open to the general public but will most benefit those residents and property owners who received letters from the city.
All meetings will be in-person, but the city may choose to impose crowd restrictions due to COVID-19. Meetings also will be available virtually through GoToMeeting. If you would like to attend virtually, call 812-522-4020 for login information.
Public comments or questions about the annexation also can be submitted by email to Seymour Clerk-Treasurer Darrin Boas at dboas@seymourin.org or by mail to 301 N. Chestnut St., Seymour, IN 47274. Please note which meeting you would like your comment or question to be addressed. Also please indicate if you would like the question to be answered publicly during the outreach meetings or by email. Comments and questions should be submitted 24 hours prior to the intended meeting to ensure it is received, reviewed and answered.
---
Seymour Dedicates Newest Downtown Community Green Space
The city of Seymour came together on the afternoon of May 25, 2021, to dedicate its newest downtown community green space.
As an extension of the John Mellencamp mural painted by Indianapolis artist Pamela Bliss, the area is the perfect gathering spot to enjoy lunch or reunite with friends.
The Mellencamp family donated $50,000 to develop the site, transforming it from a parking lot into what it is today.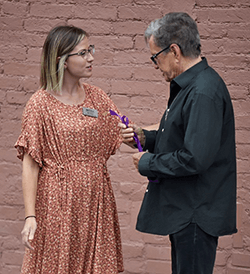 Richard Mellencamp, John's father, participated in the event by ceremoniously cutting the ribbon to officially open the space for public use. He also provided creative assistance in the design phase of the project. Pamela Bliss also attended.
The project was a unique public/private partnership between the Mellencamp family, the city of Seymour and Seymour Main Street.
Construction was completed by the city of Seymour team which included the parks and recreation department, department of public works and water pollution control. Chad Keithley, parks operations and maintenance director served as project manager.
Other donations came from Duke Energy for lighting and Myers Sod Farm of Seymour which donated the beautiful grass.
Also, as part of the project, a plaque was dedicated in memory of Larry McDonald, who played music with John Mellencamp when they were in high school. McDonald owned the music store, This Old Guitar, on which the mural is painted and was instrumental in the project. He passed away earlier this year, and will always be warmly remembered as Seymour's Music Historian and a champion of Seymour
- THE small town.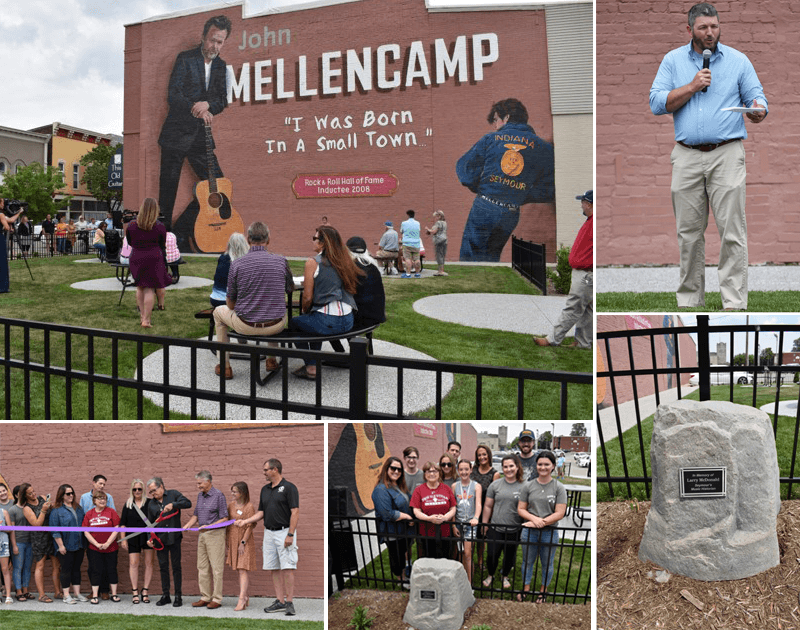 ---
Seymour City Hall has Relocated due to an Emergency Renovation Project at City Hall
But people don't need to worry about having to travel far to get a building permit, speak with the mayor or conduct other business with city officials.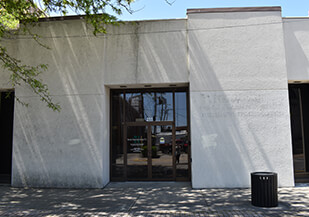 Beginning Monday, May 17, 2021, most city hall offices will be open and accessible at the former Reedy Financial building at 211 N. Chestnut St., just across Third Street from city hall's current location.
Mayor Matt Nicholson said the move is temporary but could last up to six months.
The clerk-treasurer's office, where residents pay their sewer bills, and Jackson County Industrial Development Corp. are not moving and will remain open at their current locations.
Seymour Housing Authority, Seymour Main Street and Leadership Jackson County, however, are part of the move along with parks and recreation, public transit, engineering, planning and zoning and the mayor's office.
On Friday, business will be conducted by appointment only as staff set up their new offices and make sure their phones and computers work. Call 812-522-4020 to make an appointment.
Most public city meetings including city council, board of works, plan commission and board of zoning appeals will begin meeting next week in the training and conference room at the police station and parks and recreation will meet at the Seymour Community Center.
During the project there will be some employee parking available behind city hall, but additional parking is available at the Seymour Museum Center at the Reedy Financial building and in the Keach Parking Lot behind the Post Office.
The $1.55 million renovation project includes a new HVAC system which quit working in March after a chiller went down causing a leak and substantial damage to the interior of city hall. Currently the building is without any heat or air conditioning.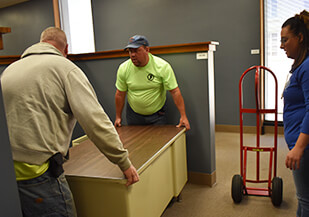 The new system will have multiple smaller units to service different areas of the building, providing a more logical and economical solution, he added.
Other items included in the renovation project include new ceilings, new LED lighting which will save the city money in the long run, new flooring and wall coverings and accessibility and security improvements.
Some of the interior offices are going to be rearranged and some new office space will be created along with a third conference room.
The project is being funded through remaining money from a capital bond the city issued in 2020 along with a new bond that will be issued later this year that will also pay for construction of a new fire station. That new bond is being issued to replace the debt from the construction of the Seymour Police Station which is nearly paid off.
For questions: Call January Rutherford, public information specialist, 812-498-2447.