Seymour Fire Department
---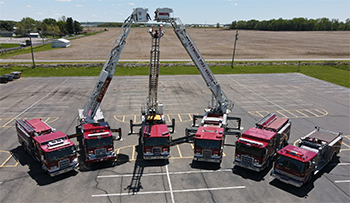 The Seymour Fire Department is under the leadership of Fire Chief, Brad Lucas and the firefighters work out of three stations.
Seymour firefighters are also trained as First Responders. The engines are outfitted with medical supplies and automatic heart defibrillator equipment for quick response to medical emergencies.
The Fire Department continually works with the community, including school children. Chief Lucas and department firefighters go to schools, day cares, and special events at area businesses and continue to conduct tours of the stations, teaching children and adults the importance of fire safety. October is Fire Safety month and kindergarten classes tour the stations.
Fire Safety
YOUR ABILITY TO GET OUT OF YOUR HOME DURING A FIRE DEPENDS ON ADVANCE WARNING FROM SMOKE ALARMS AND ADVANCE PLANNING
Fire can spread rapidly through your home, leaving you as little as one or two minutes to escape safely once the smoke alarm sounds. A closed door may slow the spread of smoke, heat and fire. Install smoke alarms in every sleeping room and outside each separate sleeping area. Install alarms on every level of the home. Pull together everyone in your household and make a plan. Walk through your home and inspect all possible exits and escape routes. Households with children should consider drawing a floor plan of your home, marking two ways out of each room, including windows and doors.
Click here for more Fire Safety Tips and Information Sheets
Safe Haven Baby Boxes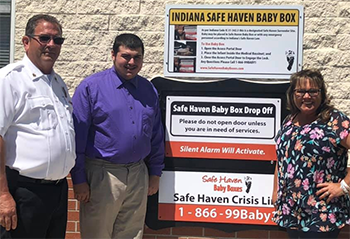 Safe Haven Baby Boxes mission is to prevent illegal abandonment of newborns by raising awareness, offering a 24-hour hotline for mothers in crisis and offering the Safe Haven Baby Boxes a last resort option for women who want to maintain complete anonymity.
Click here for more information on the location of baby boxes
History
Seymour Fire Department was once a single station department located downtown, where One Chamber Square is now located. SFD now has 3 fire stations. The city of Seymour has a population of approximately twenty thousand.
Hiring Status
The Seymour Fire Department is not currently hiring.
Contact Us
Seymour Fire Department
318 East Street
Seymour, Indiana 47274
Phone 812-522-2598
Brad Lucas - Fire Chief
blucas@seymourinfire.org
In case of Emergency dial 9-1-1
---