Seymour Public Transportation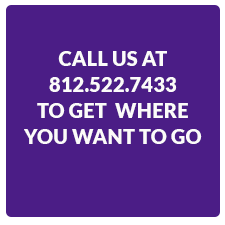 The Seymour Public Transportation Department provides a needed service to help you go shopping, visit the doctor, go to work, or just go visit a friend. For more information call 812.522.7433-we get you where you want to go! You must call before 4:00 pm to schedule a ride for the next business day.
Rider Fees
The Seymour Public Transportation provides transportation within the city limits and to Family Medical Center, Sycamore Springs and the Hoover addition.
Exact Change
Cost to the rider is $2.00 per ride, one-way. Passengers must have exact change. No change available on the bus. All vehicles are completely handicap accessible and used frequently by physically challenged persons who are in wheelchairs.
Rider Tokens Available
Riders may wish to purchase tokens for a discount price of 10 for $16.00. One token per one-way ride.
Monthly Passes
You may purchase a monthly pass for $25.00. The pass must be purchased at the transit office. You may use the pass as many times during the month as you wish. A new pass must be purchased for each consecutive month. The passes are ready for purchase approximately 1 week prior to end of the month for use the next month.
Operating Hours
Seymour Transit operates 5 days a week, Monday -Thursday from 6:00 a.m. to 6:00 p.m., and Fridays from 6:00 a.m. to 5:00 p.m. call 812.522.7433 (522-RIDE), during regular office hours of Monday – Friday, 7:00 a.m. to 4:30 p.m. to schedule a pickup at your home.
Please Note: You must call before 4:00 pm to schedule a ride for the next business day.
Standing Reservations
If you wish to ride every day or once every week, we can make a standing reservation for you. If you have an appointment, it is advisable to call at least 24 hours in advance. If you must cancel your trip, you must let us know at least 10 minutes in advance or you will be charged. All no shows will be charged $4.00 in cash or two tokens, including those no-shows incurred by a passenger using a monthly pass.
Related Documents
Equal Employment Opportunities
Seymour Public Transportation provides equal employment opportunities to all employees and applicants for employment without regard to race, color, religion, gender, sexual orientation, gender identity, national origin, age, disability, genetic information, marital status, amnesty or status as a covered veteran in accordance with applicable federal, state and local laws. For further information about employment, contact Human Resources at hr@seymourin.org or click here to visit the City of Seymour Human Resources webpage
Complaints/Issues
Call Taylor Wayt at 812-525-0037, or send an email to twayt@seymourin.org
Office Information
Office Address
Seymour Public Transportation
301-309 N. Chestnut
Seymour, Indiana
Office Staff
Mayor Matthew Nicholson - Supervisor
mayor@seymourin.org
Taylor Wayt - Director
twayt@seymourin.org
Edie Otte - Manager
seytransit@seymourin.org
Office Phone
Dispatcher: 812.522.7433 (522.RIDE)
Please Note: You must call before 4:00 pm to schedule a ride for the next business day.