Mayor Matt's Book of the Month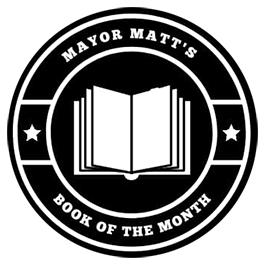 Mayor Matt Nicholson is encouraging himself and the community to read, build knowledge and converse with others through his Book of the Month initiative.
Read along each month with his pick and let everyone know what you think. Tag your post with #2022bookofthemonth on Facebook.
Also, if you see Mayor Matt out and about feel free to strike up a conversation about the book of the month.
---
Mayor Matt's Book of the Month for September
September's selection is "Where the Sidewalk Ends" by Shel Silverstein.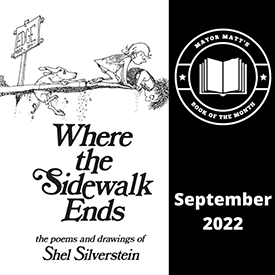 Shel Silverstein, the New York Times bestselling author of The Giving Tree, A Light in the Attic, Falling Up and Every Thing On It, has created a poetry collection that is outrageously funny and deeply profound.
You'll meet a boy who turns into a TV set, and a girl who eats a whale. The Unicorn and the Bloath live there, and so does Sarah Cynthia Sylvia Stout who will not take the garbage out. It is a place where you wash your shadow and plant diamond gardens, a place where shoes fly, sisters are auctioned off, and crocodiles go to the dentist.
Shel Silverstein's masterful collection of poems and drawings stretches the bounds of imagination and will be cherished by readers of all ages
---
Mayor Matt's Book of the Month for August
August's selection is "A Beautiful Day in the Neighborhood: Neighborly Words of Wisdom from Mister Rogers" by Fred Rogers.
Covering topics like relationships, childhood, communication, parenthood and more, Rogers's signature sayings and wise thoughts are included here. Pairing the definitive portrait of a national icon with his own instructions for living your best, kindest life, this book is a timeless treasure for Mister Rogers fans.
---
Mayor Matt's Book of the Month for July
July's selection is "The Energy Bus: 10 Rules to Fuel Your Life, Work, and Team with Positive Energy" by Jon Gordon.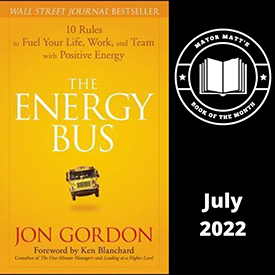 "The Energy Bus," an international bestseller takes readers on an enlightening and inspiring ride that reveals 10 secrets for approaching life and work with the kind of positive, forward thinking that leads to true accomplishment - at work and at home. Jon infuses this engaging story with keen insights as he provides a powerful roadmap to overcome adversity and bring out the best in yourself and your team.
When you get on The Energy Bus you'll enjoy the ride of your life!
---
Mayor Matt's Book of the Month for June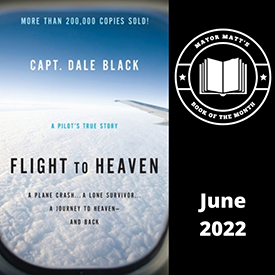 June's selection is "Flight to Heaven: A Plane Crash… A Lone Survivor…A Journey to Heaven—and Back" by Dale Black.
"Flight To Heaven is a beautifully written and amazing account of life, death - and life again. In the early days of his flying career, Capt. Dale Black was a passenger in a horrific airplane crash which some have called the most ironic in aviation history. He was the only survivor. In the gruesome aftermath of the crash Dale experienced a life-changing journey to heaven. This was not a vision or a dream, but a very real experience. To say that his journey to heaven transformed him forever, is an understatement. Not only was Dale's life forever altered but his story has already changed the lives of tens of thousands.In this captivating book you'll learn about angelic guides, living Light, and indescribable music from the astonishing city of gold. Dale describes the luxurious countryside, the massive rainbow-colored wall with gates of pearl, the awesome townships and the spiritual family that welcomed him. He shares with intricate detail the glorious beauty, radiant colors, intoxicating aromas, and boundless love and joy he experienced while in heaven.To those who have lost loved ones, this book is a source of deep comfort. It also gives readers renewed purpose and glorious hope for the future. This story is full of challenges and struggles that culminate in "overcoming faith" guaranteed to inspire. This flight to heaven dramatically changed Dale's life - reading this book could change yours too."
---
Mayor Matt's Book of the Month for May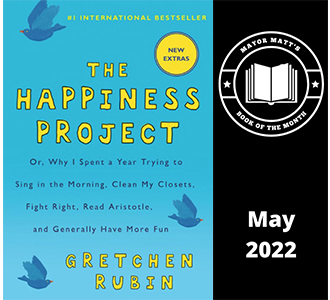 May's selection is "The Happiness Project Or Why I Spent a Year Trying to Sing in the Morning, Clean My Closets, Fight Right, Read Aristotle, and Generally Have More Fun" by Gretchen Rubin.
"Gretchen Rubin had an epiphany one rainy afternoon in the unlikeliest of places: a city bus. "The days are long, but the years are short," she realized. "Time is passing, and I'm not focusing enough on the things that really matter." In that moment, she decided to dedicate a year to her happiness project.
In this lively and compelling account, Rubin chronicles her adventures during the twelve months she spent test-driving the wisdom of the ages, current scientific research, and lessons from popular culture about how to be happier. Among other things, she found that novelty and challenge are powerful sources of happiness; that money can help buy happiness, when spent wisely; that outer order contributes to inner calm; and that the very smallest of changes can make the biggest difference."
---
Mayor Matt's Book of the Month for April
April's selection is "Gratitude in Motion" by Colleen Kelly Alexander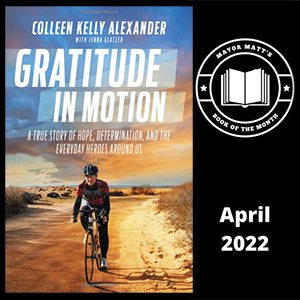 It was a beautiful fall day in Connecticut when Colleen Kelly Alexander, a lifelong athlete, rode her bike home from work. She had survived both a diagnosis of lupus and brain surgery, had a fulfilling career, and was married at last to the love of her life. Everything was good as she coasted along, meeting the eyes of a truck driver as he approached the stop sign beside her.
He didn't stop. The truck hit Colleen, running over her lower body with front and back tires and dragging her across the pavement. As she bled out in the street, nearby strangers surrounded her and the driver attempted to get away. An EMT herself, Colleen knew she had to stay awake. "I've just been reconnected with my soulmate," she told the medic. "We want to have a baby. I can't die now. Please don't let me die."
Five weeks in a coma and twenty-nine surgeries later, Colleen survived. Rather than let the trauma and PTSD control her life, she became determined to find a way to make something positive from her pain. She decided she'd run again and dedicate her race medals to the everyday heroes around us, including the medical staff and blood donors who saved her life. Since then Colleen has run fifty races and completed forty triathlons, including four half-Ironman events. Now a spokesperson for the Red Cross, Colleen shares her incredible inspirational story to encourage others to take that first step forward.
---
Mayor Matt's Book of the Month for March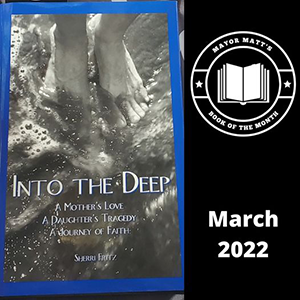 March's selection is "Into the Deep" by Jackson County's own Sherri Fritz
Into the Deep is a mother's story, or is it? While written by a loving mother, it first involves a daughter, then a family, then friends and eventually a vast community of supporters, spread all over the country. It chronicles the peaks and broad, uncharted valleys of dealing with a parent's worst nightmare, the near-total disability of a young child. The clashes of hope and fear, faith, doubt, courage, and despair recur page after page. Coming to grips with tragedy is a difficult, time-consuming journey.
"I read 'Into the Deep' several years ago. As I read it again recently, I couldn't help but feel the timing was perfect." - Mayor Matt Nicholson.
Pick up a copy, give it a read and let it spark a conversation!
---
Mayor Matt's Book of the Month Pick for February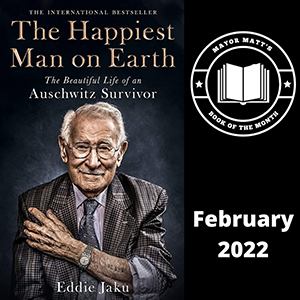 "The Happiest Man on Earth: The Beautiful Life of an Auschwitz Survivor" by Eddie Jaku
Holocaust survivor Eddie Jaku made a vow to smile every day and now believes he is the 'happiest man on earth'. In his inspirational memoir, he pays tribute to those who were lost by telling his story and sharing his wisdom. Life can be beautiful if you make it beautiful. It is up to you.
I encourage everyone to listen to his TED Talk and give his bestseller a read yourself.
– Mayor Matt Nicholson
---
January's selection is "Life is Good: The Book. Your Practical Guide to the Power of Optimism" by John and Bert Jacobs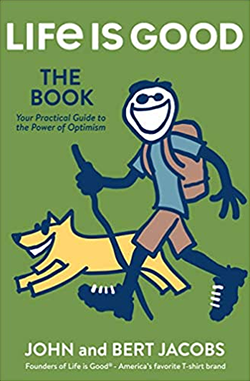 This inspiring book of wisdom, life lessons, and self-help from National Geographic celebrates the power of optimism: the driving force behind the authors' beloved, socially conscious clothing and lifestyle brand, now worth more than $100 million. Following the chronology of their personal and professional journeys, Bert and John share their unique ride-from their scrappy upbringing outside Boston to the unlikely runaway success of their business. The brothers illuminate ten key "superpowers" accessible to us all: openness, courage, simplicity, humor, gratitude, fun, compassion, creativity, authenticity, and love. Their story, illustrated with the company's iconic artwork, shows how to overcome obstacles and embrace opportunities-whether it's growing stronger from rejection, letting your imagination loose, or simplifying your life to focus on what matters most. In these colorful pages, Bert and John's plainspoken insights are paired with inspiring quotations, playful top-ten lists, deeply moving letter from the Life is Good community, and valuable takeaways from tapping the power of optimism to live your best life. Both entertaining and profound, Life is Good: The Book is the ultimate guide to embracing and growing the good in your life.
"I received this book as a present and have enjoyed the reminders that it brings about life isn't always perfect or sometimes it isn't even good, but it could be much worse.
If you visit your local bookstore, read it online, or pick it up at a chain let everyone else know what you thought.
When you see me out and about feel free to strike up a conversation about this or whatever is on your mind that day."
– Mayor Matt Nicholson